The White Tiger Pg. 52-54
- Arvind Adiga
Fiction
About the book:
The White Tiger follows a darkly comic Bangalore driver through the poverty and corruption of modern India's caste society. The White Tiger is narrative genius with a mischief and personality all ...(more)
My eyes are open again.
11:52 p.m.--and it really is time to start.
A statutory warning--as they say on cigarette packs--before we begin.
One day, as I was driving my ex-employers Mr. Ashok and Pinky Madam in their Honda City car, Mr. Ashok put a hand on my shoulder, and said, "Pull over to the side." Following this command, he leaned forward so close that I could smell his aftershave--it was a delicious, fruitlike smell that day--and said, politely as ever, "Balram, I have a few questions to ask you, all right?"
"Yes, sir," I said.
"Balram," Mr. Ashok asked, "how many planets are there in the sky?"
I gave the answer as best as I could.
"Balram, who was the first prime minister of India?"
And then: "Balram, what is the difference between a Hindu and a Muslim?"
And then: "What is the name of our continent?"
Mr. Ashok leaned back and asked Pinky Madam, "Did you hear his answers?"
"Was he joking?" she asked, and my heart beat faster, as it did every time she said something.
"No. That's really what he thinks the correct answers are."
She giggled when she heard this: but his face, which I saw reflected in my rearview mirror, was serious.
"The thing is, he probably has...what, two, three years of schooling in him? He can read and write, but he doesn't get what he's read. He's half-baked. The country is full of people like him, I'll tell you that. And we entrust our glorious parliamentary democracy"--he pointed at me--"to characters like these. That's the whole tragedy of this country." He sighed.
"All right, Balram, start the car again."
That night, I was lying in bed, inside my mosquito net, thinking about his words. He was right, sir--I didn't like the way he had spoken about me, but he was right. "The Autobiography of a Half-Baked Indian." That's what I ought to call my life's story. Me, and thousands of others in this country like me, are half-baked, because we were never allowed to complete our schooling. Open our skulls, look in with a penlight, and you'll find an odd museum of ideas: sentences of history or mathematics remembered from school textbooks (no boy remembers his schooling like one who was taken out of school, let me assure you), sentences about politics read in a newspaper while waiting for someone to come to an office, triangles and pyramids seen on the torn pages of the old geometry textbooks which every tea shop in this country uses to wrap its snacks in, bits of All India Radio news bulletins, things that drop into your mind, like lizards from the ceiling, in the half hour before falling asleep--all these ideas, half formed and half digested and half correct, mix up with other half-cooked ideas in your head, and I guess these half-formed ideas bugger one another, and make more half-formed ideas, and this is what you act on and live with.
The story of my upbringing is the story of how a half-baked fellow is produced. But pay attention, Mr. Premier! Fully formed fellows, after twelve years of school and three years of university, wear nice suits, join companies, and take orders from other men for the rest of their lives. Entrepreneurs are made from half-baked clay.
* *
To give you the basic facts about me--origin, height, weight, known sexual deviations, etc.-- there's no beating that poster. The one the police made of me. Calling myself Bangalore's least known success story isn't entirely true, I confess. About three years ago, when I became, briefly, a person of national importance owing to an act of entrepreneurship, a poster with my face on it found its way to every post office, railway station, and police station in this country. A lot of people saw my face and name back then. I don't have the original paper copy, but I've downloaded an image to my silver Macintosh laptop--I bought it online from a store in Singapore, and it really works like a dream--and if you'll wait a second, I'll open the laptop, pull that scanned poster up, and read from it directly... But a word about the original poster. I found it in a train station in Hyderabad, in the period when I was traveling with no luggage--except for one very heavy red bag--and coming down from Delhi to Bangalore. I had the original right here in this office, in the drawer of this desk, for a full year.
One day the cleaning boy was going through my stuff, and he almost found the poster. I'm not a sentimental man, Mr. Jiabao. Entrepreneurs can't afford to be. So I threw the thing out--but before that, I got someone to teach me scanning--and you know how we Indians just take to technology like ducks to water. It took just an hour, or two hours. I am a man of action, sir. And here it is, on the screen, in front of me:
Assistance Sought in Search for Missing Man
General Public is hereby informed that the man in the picture namely Balram Halwai alias MUNNA son of Vikram Halwai rickshaw-puller is wanted for questioning. Age: Between 25 and 35. Complexion: Blackish. Face: Oval. Height: Five feet four inches estimated. Build: Thin, small.
Well, that's not exactly right anymore, sir. The "blackish face" bit is still true--although I'm of half a mind to try one of those skin-whitener creams they've launched these days so Indian men can look white as Westerners--but the rest, alas, is completely useless. Life in Bangalore is good--rich food, beer, nightclubs, so what can I say! "Thin" and "small"--ha! I am in better shape these days! "Fat" and "potbellied" would be more accurate now. But let us go on, we don't have all night. I'd better explain this bit right now.
More from The White Tiger: &nbsp&nbsp&nbspExcerpt 2
You may also like: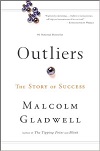 Malcolm Gladwell

David Baldacci

Audrey Niffenegger